Special congratulations to Juan Legaz!!!
Laura Fernández and Juan Legaz, current Junior National champions, were members of the Spanish team at past European Youth Olympic Days in Bled (Slovenia). Both are the main promises of our figure skating, and they corroborated it getting the best results of the Spanish team.
Laura got 14th place after the SP but her marks at the FP, between 3.5-3.8 for technique and 3.6-4.2 for presentation put her 16th , and she finished in the same place as final result.
Juan, who is also doing a good season with strong programs and performances, was the pleasant surprise getting a brilliant 6th place after the SP. At the FP he was able to maintain his wonderful skating and was 7th, with marks between 4.2-4.6 and 4.3-4.8.
Juan finished in a superb 6th place!
This merit gave to him the honour to be the flag bearer in the closing ceremony.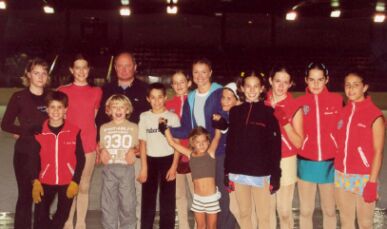 Figure skating is now on the move in Madrid. In a just few years it has become the main contributor of young skaters into the national team.
I come from Madrid, and Iím very glad to see the increasing number of débutantes, novices and juniors. At this moment there are five clubs from Madrid region (Igloo, Majadahonda, Leganés, Legahielo and Boadilla) which usually participate in national and are beginning to compete at international events along with the clubs from Barcelona, Vitoria, Jaca and San Sebastián.
This success comes from the great effort and enthusiasm of the skaters, their families, coaches and the fans that support this beautiful sport. Still, thereís more to accomplish, specially speaking of companies support to maintain figure skating in Spain.
More photos and info on Igloo Sports Club to come as soon as their official website is completed. http://www.clubigloo.com