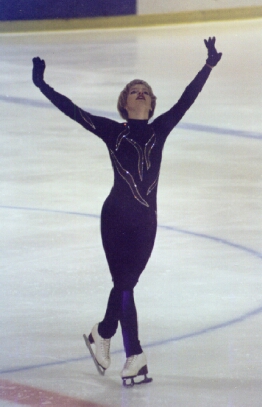 Another marvelous evening of figure skating. The second exhibition scheduled in the summer stage took place, there were 18 skaters from Spain, Russia, Israel, Italy, Belgium, Netherlands, Austria, Hungary and USA.
This time the fans had a chance to see Evgeni Plushenko twice! Closing both parts of the show. First, he performed his new SP. Plushenko appeared in a new costume, a Michael Jackson image and people greeted him with "Davai Chempion!" in Russian (Go Champion!) . The medley includes three different pieces from Michael Jackson´s songs. Evgeny tried a quad at the beginning, but fell down. It didn't matter though, because then came the brilliant footwork and two triples.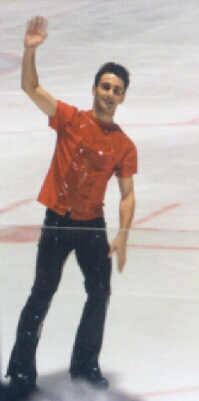 Elena Sokolova skated the same programs as in the previous exhibition. The first one, was to music from "Sanson and Dalila" (as she kindly said to us). This was a wonderful performance with Arabic movements and then was her "Masquarade" program. Seeing her live is better to appreciate all the elegance.
Andrei Griazev, one of the dearest skaters for the audience, was met by fans shouting "Davai krasivyi!" (Go handsome!) and he answered with a big smile. Andrei also performed his FP "The Barber Of Seville" and the SP to Arabic music. He is a young skater with his own style on ice, he showed off his flexibility doing Biellman spins on both legs.
The other idol of the night was the current Spanish National Champion Jon Garcia. A great performer and dancer, Jon was greeted by people shouting to him "Aupa Jon!" and he animated the show skating to the song "Kiss" by Tom Jones & The Art Of Noise version. Other Spanish skaters like Rebeca García ( Junior National Champion) and the youngest skater Sonia Lafuente performed "Don Quijote" and came back to cheer all the fans.
Rachel Lior skated her two programs, "Zoltan Toth" in Musorgski's "A Night On The Bald Mountain". She and Kevin Van Der Perren got a big applauses as well.
A great exhibition needs a great final, and Plushenko came back to perform his Once Upon ... , the audience gave him a standing ovation and Alexei Mishin animated the people to ask for more. Everybody was shouting "Otra, otra!" and Evgeni came back to land a clean quad and thanked the audience affectionately.
The show was a big success for skaters and for fans. At the end, all skaters and coaches kindly let people to take photos and autographs for long time.

---
| | | |
| --- | --- | --- |
| Exhibition review & photos by Paloma | Sorry, some photos might take time to load | Photos in text: Elena Sokolova & Jon Garcia |
.