Elena Sokolova and Alexei Mishin have parted ways in August of 2002. Elena will continue competing but she has went back to her previous coach, Viktor Kudriavtsev. Sokolova will most likely miss her Grand Prix assignment in Germany and will return to the scene at the Nationals '03.
---
Interview Before Nationals 2001
Q: Elena, what do you think about your performance at Cup of Russia?
Elena: What can I say? In general, this event was much more fortunate for me. I started the season very poorly and was eager to show good skating in my hometown. Not everything went smoothly but I am very pleased with my short program, anyway. As for my free skate, itís improving and thatís good. The most important thing now is the Nationals. Letís hope for the best.
Q: I know that the program you skated in St. Petersburg wasnít not a new one. Didnít you want to bring any changes into your repertoire?
Elena: I didnít have a chance to show this program at Europeans or Worlds and thatís why I wanted to keep it. In the beginning of the season we didnít come up with any better idea. The ďMasquerade,Ē however, is so close to me and I believe it might be my signature piece.
Q: How does it make you feel that places in the National team are almost gone? Slutskaya is going to Olympics because she is now the strongest lady in Russia. Butyrskayaís coach is desperate to see Maria there.
Elena: I wonít comment on that but what I can say for sure that Iím going to fight very seriously.
I am not going to compete against anybody in particular but only for myself. Iíll tell you what: the strongest will go to the Olympics. I also believe I will have enough strength to show at Nationals what I am really capable of.
Q: The RFSF President Piseev was disappointed with your performance at GWG saying that you donít follow any recommendations or advises and also put some weight onÖ
Elena: Iíve lost weight since the GWG and donít think thatís a problem anymore. As for other advises, I havenít even heard of that so far.
Q: If you get to Salt lake City, it would be your second Olympics. Would you take it differently?
Elena: I think I would fight for better place then I did four years ago. People recognize me now but back then, in Nagano, I didnít have a name or any experience. Last Olympic Games were the first such high level competitions for me.
Q: What about you career if you donít make it there? Are you going to quit?
Elena: No, I am not. I will skate for at least five more years. I wonít quit until I start winning. So, if you want me to quit then let me win.
Source: Gazetaru

---
St. Petersburg Welcomes Elena Sokolova
Last spring, a twenty year old girl left her native capital city and moved to St. Petersburg to start a new novel of her life, right from the beginning. Somebody explains it as a common sign of a despair of an athlete who has a tremendous potential but wasn't able to realize it due to various circumstances. Others see that as a hopeless venture. Actually, this is a rather strange step in sports, perhaps even a bit daring.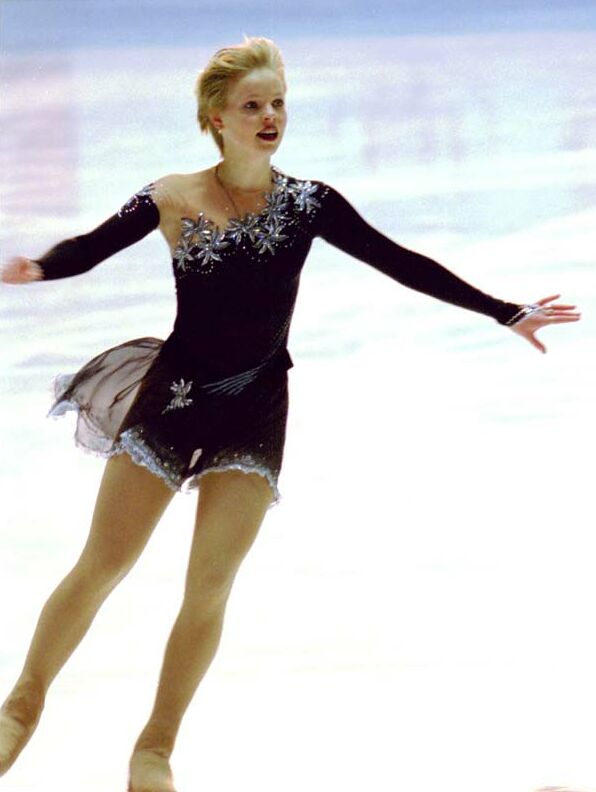 How appropriate is it, to approach some stranger and say: "Would you be interested in working with me?" Taking risks is for the brave, though. Sokolova has never belonged to timid ones - not in life, not on ice, she just wasn't lucky. Especially, for the last two years. It started in 1998 when she finished 8th at Worlds. The destiny was testing Elena for resilience by not letting her win a single major competition except for the Winter Universiade in 99. During this time she has almost declined from being "a great hope of Russian Figure Skating" to "the one we lost." Nevertheless, she didn't want to quit the sport - it's not in her character. Lena certainly didn't want to follow Yulia Soldatova's steps either...
Sokolova had a chance to restart her career in sports abroad: T. Tarasova and E. Tchaikovskaya persistently offered her to work with them. However Elena gave her preference to another coach, Alexei Mishin, who, by the way, hasn't been training ladies for years. After switching from Victor Kudriavtsev who paid more attention to Victoria Volchkova, Elena instantly transformed from a stepdaughter into beloved one and become a prima of St.Petersburg figure skating.
As a matter of fact, Lena was in need of such a mentor as Mishin, who is able to combine flair of a Muscovite and regal dignity of St. Petersburg in the most wonderful way. At "Cup of Russia 2000" the audience had a chance to see another, unfamiliar Elena Sokolova. If we put it into the fine literature allegories, Elena isn't the "Pipi, the Longstocking," anymore but she transformed into Tolstoyan Natasha Rostova, an embodiment of a gazelle and high society lady. She's become less impetuous in her movements. Her programs are now more meaningful. The most important thing, however, is that her usual nervousness is gone and her big gray eyes, in a contrast to Grand Prix event '99, radiant with an absolute tranquility.
"I am sure my time is coming now,"- says Elena...
Excerpts from article by Sergey Ostroverkhov
Severnyi Forum, November 2000
Photo by Koichi N.

---
2000/01 Season Review
Last season started out promising for Elena Sokolova. She has debuted her new programs at Finlandia Trophy and won the gold for the third year in a row. "Skate America" was Elena's first and successful Grand Prix event where she became third competing in a very strong field of competitors. It's also important to mention that the high altitude location of the rink in Colorado Springs demands an extra strength from the skaters and not all of them are able to perform at their best. Lena's second Grand Prix event in St. Petersburg brought her to an even better result. This time she finished second. Both of her programs, the LP to Waltz from "Ball- Masquerade" by Khachaturian and "Gypsy Dance" from "Don Quixote" by Minkus that she choose for the SP, suited her really well. While she usually looks very focused at the beginning of her programs, where the most difficult elements as planned, with that completed, Elena becomes more relaxed and her charming personality begins to shine through.
Known as the "Queen of Practice," Elena's nerves often give up at major competitions such as Nationals that determine the Russian team to Europeans and Worlds. Probably, a few months that she has been working with Alexei Mishin, were not enough to improve her confidence. After being a strong second in SP, a few unsuccessful triple salchow attempts made her slip to 4th in the LP. One more chance to make the team was left to her, though, - the Grand Prix Final. Sadly, but it happened to her once again. It is hard to say anything here because Sokolova's skating was chucked out of the broadcast except for the SP where she was such a pleasure to watch especially her wonderful double axel with a hand over her head.
However, Elena completed the season with a victory, she became the winner among ladies in the first ever Top Jump Contest that took place in Lyon, France.
On March 8th Elena skated at a concert dedicated to the 60th anniversary of her coach Alexei Mishin. One of her programs was "Marlyn Monroe" which she also skated at the exhibitions after the Grand Prix Final.
Later that spring she was invited by Alexei Urmanov to join the cast of his first show in St.Petersburg. During the off season Elena along with other Alexei Mishin's other students will spend a few weeks training in the US, Italy, and of course, Spain.
---
Competitive History
---