---
In 1994 Alexei Urmanov became the first Russian skater to win the Olympic Games since Nikolai Panin-Kolomenkin did almost a century earlier. In 1992 he was one of the first skaters to land a quad in competition, he is, however, most known for his artistry and style on ice. Urmanov is one of those skaters who worked with the same coach, Alexei Mishin, throughout his eligible career. They remained a team through many falls and triumphs of Alexei's eligible skating. When he decided to turn professional, Alexei said that he will continue working with the same team of choreographers and the same coach. This decision proved to be the right one, Alexei won the gold at World Professional Championships later that season.
Now Alexei Urmanov has decided to give another career a try: coaching. Not too long ago he started training a group of young girls in his native city of St. Petersburg...
---
"It's a pity that Alexei has decided to quit the amateur sport. He is a young man. If it wasn't for the injury he might have skated for a long time.
The youngsters have overcome him technically. He just didn't want to be behind the skaters among whom he used to be the leader.
I believe it was a psychological reason."
Ludmila Velikova
"Alexei is an adult and he's been always making his own decisions. He is smart. If he has decided to quit, he has a right to do so. A bit too early, of course. I'd have stayed and competed longer but that's just my opinion. I respect any his choice. He is the only one who knows how difficult it was for him to make such a decision. Of course, everybody will miss him: his fellow skaters, his fans, journalists. Who knows, maybe he will change his mind and come back. However, it was very honest of him to act the way he did it: he sent a letter to RF before the season began, then made an announcement on radio and TV. It was very decent step with respect to his competitors. He acted gracefully as he always does."
Alexei Tikhonov
---
Q: There is an opinion that Urmanov wasn't able to "cash in" on the Olympic title that he won in Lillehammer. What would you say about that?
Alexei: At that time the skaters didn't have such opportunities to realize themselves as they do now. Turning pro was rather a rare case. Only Oksana Baiul went pro after the Olympic Games in Lillehammer. Beside that, I was only twenty years old and wasn't going to end my amateur career. But alas, a serious injury I suffered didn't allow me to defend my title in Nagano. As a result, the ending of my career was somewhat smudged.
Q: Beside skating in commercial shows you are also coaching at the "Yubileinyi." Do you have any talented students?
Alexei: I am now working with six students from eleven to thirteen years old. At this age it's really hard to tell how promising they are. It's even difficult to predict anything for older skaters. Sometimes everyone sees a future champion in some kid but, a year later, he just disappears off the horizon. However… One of my students is quite able to reach high results. I was right to take her along when I went to Worlds in Nice.
Q: After the birth of your twin sons you have also become a teacher at home.
Alexei: It's only helps me with my work. In any case, the relationships have always been most important for me. Of course, there should be some distance kept between students and a coach but there won't be any success if you and your students can't communicate.
Q: Last year "Alexei Urmanov's Show" received a good response from the press. Are you going to continue a producer's career in sports?
Alexei: Unfortunately, the show wasn't profitable. Sadly, I wasn't just a producer but also invested my own money in this show. In general, though, it's quite possible if not to make a profit then to break even. Right now I'm not planning any shows because the most of my time is occupied by work with children.
Q: Alexei Yagudin has recently said that he isn't even thinking about the Olympics. Is that possible?
Alexei: I think it's just a strategy.
Q: Not much is known now about how Tatiana Tarasova is preparing her students for Olympics …
Alexei: This somewhat surprises me. Such kind of behavior isn't typical of Lyosha. He loves some "fuss" going on around his name. I have two explanations for that: either he does it on purpose or, if the bad rumors are true, he deals with some mental issues.
Q: Doesn't Yagudin's work with Zaiganov speak for itself?
Alexei: It also may be done just for the public. I can say from my own experience that a psychologist can only help if a sportsman himself takes it seriously.
Q: Have you ever had such kind of difficulties?
Alexei: I worked with a specialist before the Games in Lillehammer. We discussed many things: how to prepare yourself for a competition, what you should or shouldn't think about. I have to admit that those advises did help me.
Q: What can you say about Evgeny Plushenko's chances at Olympics? Wasn't it too late to present a new LP?
Alexei: In the Olympic year the skaters often hesitate with the choices of music. Then they finally find it but the first competitions are already coming up. They have to skate an old program. So, the zeitnot in such situation is quite usual.
Vladimir Raush, Sov. Sport, December 2001
---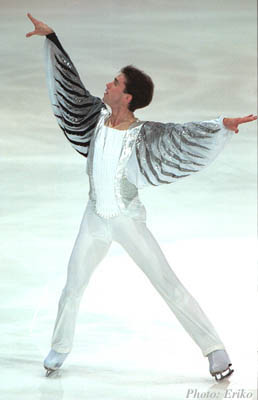 ---
Photo coutesy of Eriko
---
---
Competitive History
---