Alexei Urmanov on his career in amateur sport
---
Alexei made his first steps on ice at the rink by the small church on Vasilievskyi island, later he was enrolled into famous "Yubileinyi" figure skating school. Despite the common opinion about daring characters of future champions, he was an exemplary kid and never bothered his mom with "soccer- hockey" questions. Alexei never gave any trouble for his coach, Nina Nikolaevna Monakhova, either, but he is certain that it wasn't his merit.
Alexei: Nina Nikolaevna is a very calm person, she loved all the kids in her group and was kind to them like a mom. As I realized, she never had any problems with anybody. Of course, we were 4 or 5 years old at that time. She was able to find a right approach to any kid.
However, there are no doubts that if Alexei didn't like the figure skating, nobody could have talked him into it.
---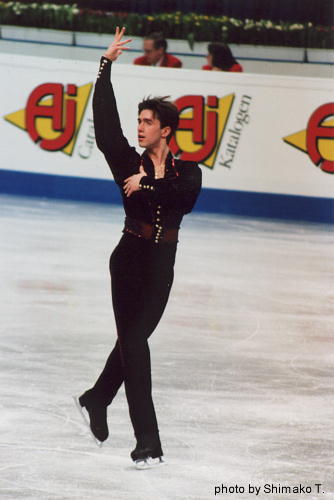 Q: When were your first Russian Nationals?
-The fist time I skated at senior RN was in 1990. I wouldn't say it was too difficult. I switched to the senior level with ease. The winning wasn't my goal at that moment, it wasn't even realistic for me to get to the podium. I was a guy who just moved up to the senior ranks. Everybody knew that I just got silver at Junior World's. It's a first step to masters. As for RN, I finished 6th, definitely not a bad result for a newcomer. In 1991 I medalled and made the team.
Q: Would you say that the break up of the USSR played in your favor?
-No, I wouldn't agree. I was already in the team. Why it would play in my favor? This situation would have helped only those skaters who were 4th or 5th and were not able to make the team: after Petrenko and Zagorodniuk left, they moved up in ranks.
Q: At Euro's in 92 you made quite an impression by landing a quad... Why was this jump included in your program if it was not a required element back then?
-It's still not a required element. Actually, my coach and I didn't pursue any goal. We thought, though, that this particular jump would have a lot of potential. If a skater feels almost secure with some element, it makes sense to include it in the program. I was young when I learned the quad that's why I decided to attempt it at competition. At certain age you take things differently and take more risks. That was not my fault that others didn't do it at that time. It was a pity, though, that I couldn't skate back then. Of course, I did skate, but my skating was rather funny, awkward, no artistry at all, weak spins... I could jump, even land quads but it wasn't enough to win championships. I was 6th at Europeans and 8th at Worlds. My level of skating was much lower then leader's that's why I could be bold.
Q: Were your first Olympics in Albertville somehow special to you?
-There are no miracles. I was not ready to win nor fight for high results there. It's a very serious competition and after watching it I realized that it's definitely not like Europeans, Worlds or RN...

---
Q: Which victory was the most unexpected for you at Olympics or at Europeans '97?
-Probably at Europeans I was 1st in Lillehammer but only 6th there (after the SP). I've been working really hard on it, I've done everything I could to make it possible. Nobody believed in it. Frankly, we thought it was a mistake, we couldn't understand how it happened. I still don't get it but anyway ...I was really lucky. Fortune smiled at me.
Q: Are you lucky in life?
-Nothing comes easy. You have to work really hard to get it done in your way. Maybe there was some luck but I just don't recall. However, I think once in a while fortune does smile on everyone.
Q: What were your chances to win at Worlds '99?
-There was no real chance but I don't think that my skating there was awful. Yes, I stumbled in the short program but my free skate had a real chance to become 3rd. There was no quad in my program and I skated as I could. It's arguable to discuss the championship when it's already over. If there was a failure, you should analyze not the competition but a mistake that was in the...
Q: Then what was the mistake?
-It seems to me, there was no mistake. I skated the best I could. Skaters have improved technically and artistically. I can not say that my program wasn't good, but technically I was already weaker. I missed a year before, didn't compete anywhere. People just watch: this one skates well, another one -not. You have to take all factors into consideration.
---
Q: When have you finally made the decision to leave amateur sport?
-Final? Sometime at the end of August, I believe. I knew for a long time that this would be so. I was ready to do it. Such official announcements cause discussions but it's not really worth anything. This official note is just a piece of paper, you can tear it up and throw it away. Participating in some pro event makes you loose the amateur status. Until then I'm in amateur sport.
Q: When are you planning to compete at a pro competition?
-I think on October 19th & 20th.
Q: After you announced that you're quitting amateur sport many people are puzzled who's fans they are going to be now...
-People are disappointed that I'm leaving but what have they expected me to do? Skate forever? for the rest of my life?
Q: At least one more season?
-It can't happen this way: at first one more season, then one more, after that one more year... It might be a long talk, but it's hard to come to a common opinion.
Q: That means that you won't return?
-Hope always dies last.
Q: Are you an optimist?
-I think I am. Of course there is always a struggle but everything seems fine. The most important thing is that you come and smile. Being in a good mood is wonderful. People don't get it sometimes, why is he seems so happy, but optimism always wins.
---
Interview by Irina Vasilieva, Sport 21
Photo courtesy of Shimako