Brief Interview after Cup ofRussia
Q: Howdo you like the new judging system?
Evgeny:I do what Iām supposed to do ö skate. And try not to get involved in questions of judging. So far, as you can see, everything is going well (knocks on wood)
Q: Todayyou did great in the Free Skate. Was it your maximum or you can you doeven better then that?
Evgeny:It wasnāt bad, I think. I landed 4-3-3 combination and did it cleanly.Yes, I tried it at the Olympics but made a mistake.
Q: Inabsence of Alexei Yagudin, who is your main competitor?
Evgeny:(Laughing.) The favorite question. When I was 15 and just started out onsenior level I tried to compete with everybody ö Yagudin, Urmanov· I wastrying to prove that I am better. Now I skate to please myself, I donātcompete with anyone or fight because I am my own main competitor. If Ican overcome my inner barrier, everything goes well.
Q: Youare now working with four choreographers. Is it a ballet-class routineor do they work with you on an image they want you to portray?
Evgeny:This year I did start taking ballet classes, pay more attention to choreography.I always wanted to have a team of choreographers. I believe it paid off.
Q: Doyou believe that landing five- revolution jumps is just a matter of time?
Evgeny:At first, all kinds of quads should be learned. Itās too early to thinkabout five revolutions. I think it will be done by kids that justcame into figure skating, those who are just four or five years old now.
Q: Yourfans throw you a lot of toys. What do you do with them?
Evgeny:I bring most of them to the orphanage. But not all, I also have nephews,nieces and friends who have kids.
Q: Youare one of the most known sportsman in the World. Would you like to tryyourself in show business or in sport journalism?
Evgeny:I think there are already a lot of journalists out there. As for the showbusiness, Iāve never thought about it. I hope to skate for another eightor ten years.
Sovsport

Evgeny Plushenko about his Friendsand New Programs
Excerptsfrom Figure Skating Magazine
Q: Therewere rumors you left Mishin. How would you comment on that?
Evgeny:There is nothing to comment on because it never happened ö the thoughtnever even crossed my mind. I first heard about that myself while on vacationsin Turkey. A friend of mine called me from America and told that everybodywas shocked there by this information which spread in the Internet. I donātknow who is behind this and what they are trying to do. Probably, itāssomeone who is afraid of Alexei Nikolaevich and me as a team. ButI wasnāt going to leave him and I am not going to.
Q: Whatare your programs for the new season?
Evgeny:Short program is to ćAdagioä by Albinoni. We invited Valerii Mikhailovskito choreograph it. The idea of this program as well as inviting Mikhailovski,a choreographer, belong to my coach. In his time it was Mikhailovski,who was the soloist in a Eifman production to Albinoni music, made a strikingimpression on Alexei Nikolaevich. The Free Skate is to music of a St.Petersburgcomposer Igor Kornelyuk. This program is dedicated to my city and willbe a present for its people for the 300-year anniversary.
AlexeiNikolaevich and I are constantly working on my style and every year wetry to show me in a different light. I donāt think itās a bad thing,despite that a lot of outstanding skaters stick to their once chosen style,never betraying it. As for us, we like looking for something new.
Q: Andyour closest friends in figure skating and beside sport?
Evgeny:The most precious friends of mine are my fans. I thank them for supportingme at difficult times. I also have a lot of friends among skaters but theendless traveling doesnāt allow us to get together that often. Iām friendswith Sasha Abt, Roma Kostomarov, Vakho Murvanidze. Anton Sikharulidze,of course, but even with him there isnāt much time to hang out. It so happenedthat last summer Lena and Anton have chosen to skate in another tour whileI was still with Champions on Ice. Now I am here but he left to America.I also have friends among hockey players ö for example, Zhamnov Lyosha,Kvasha Oleg. Some tennis players too. During the ćSt.Petersburg Openä Imet with Hrbaty. He invited me to courts saying: ćCome, I will coach you.äIt didnāt work out though, I had practice at that time. Iād like to makenew friends. Iād like to meet Kafelnikov- it is said I look like him. Although,my choreographers are much older then me weāve become friends - EvgenySerezhnikov, David Avdysh, Edvald Smirnov and now also with Kirill Simonov,Alexei Semenov and Valerii Mikhailovski.
---
Kirill Simonov's BiographicalData:
Kirill Simonov was born in1975 in. In 1995 he graduated from the famed Vaganova Russian BalletAcademy, class of Prof. Vladilen Semenov, in St.Petersburg and joined theMariinsky Theatre. At the age of 23, Simonov was offered a choreographersposition. As a choreographer, he has started out his career with a newproduction of The Nutcracker along with the famous Russian painter MikhailShemyakin and the Mariinsky Theatre Artistic Director/Conductor ValeryGergiev. Repertoire: Swan Lake (Jester), The Nutcracker (Nutcracker-doll).As a, he has staged several concert fragments and ballet The Nutcracker(set, costumes and production design by Mikhail Shemyakin, 2001).
---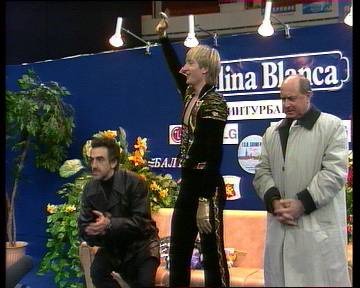 ---
W sport; Photocourtesy of Engis.ru (David Avdysh, Evgeny Plushenko, Alexei NikolaevichMishin -St. Petersburg, Cup of Russia 2000)
---